Benefits to Building a Custom Home in Atlanta
By George Cooke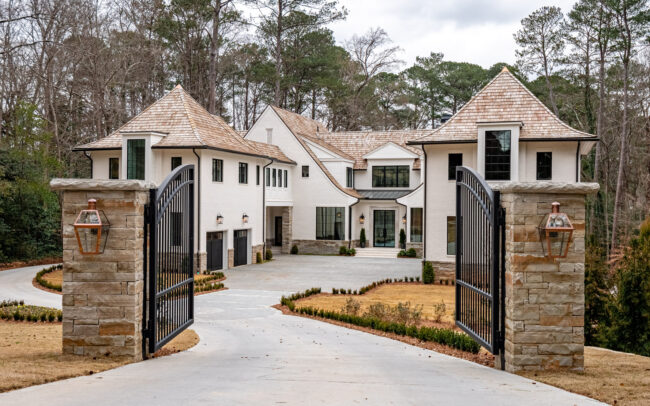 Atlanta is unique in the opportunities available when considering building a new custom luxury home. Gently rolling terrain, limited natural boundaries to construction, favorable weather for a pool, established neighborhoods and infrastructure, a strong design community, numerous well-stocked supply houses, and many skilled craftsmen. Building a custom home with a quality custom home builder in Atlanta allows you to use these opportunities to create a home that is uniquely yours and will satisfy your family's needs for many years.
Terrain is important because it shapes a home's placement on the site, providing the views and property usage to suit your needs and wishes. Atlanta's topography is conducive to building homes with terrace levels, welcoming guest houses, vanishing edge pools, elegant kitchens and bedrooms infused with natural light, tiered gardens and sweeping driveways. Since many new custom homes are built on existing lots within established neighborhoods, the Atlanta Building Departments are very careful to protect the mature hardwood tree canopy. Enlisting a qualified site planner or landscape architect as part of the design team is an important step to blending a new custom home into the property. Considerations such as orientation to the sun and how the home's exposure to sunlight changes throughout the day and seasons will come into play when determining placement of a custom built home on the lot. And if space allows exciting features such as sport courts, pickleball courts, fountains, raised gardens and the likes can be incorporated into the site planning!
Building a custom home provides the ability to create the home of your dreams. A new custom home is uniquely yours, reflecting your wishes, needs, and desires…you do not have to settle for a home that checks a few boxes, building a custom home allows you to check all the boxes! To achieve this, you need a good custom home builder to work hand in hand to bring your dream to reality. Atlanta is well known as a top design center of the South, so there is no shortage of creative architects, designers, and general contractors to choose from as you build your team. Here at White Oak Fine Homes, we believe a collaborative approach including both the design and construction professionals from the beginning is important to being one of the top luxury home builders in Atlanta. Building a custom home means starting from scratch and starting from scratch means that the only limitations are the ones that you choose. Setting limitations from the start can be wise, especially limitations surrounding the budget and size of the custom home. Your design and construction team will help with setting realistic limitations and designing within those limits, while ensuring availability for any interior or exterior renovations in the future. 
When building a custom home, the style and finishes reflect you and the way you live. Some of the best craftsmen, tradesmen, and vendors in the South call Atlanta their home. If you can dream it, there is a custom home builder in Atlanta who can build it! Those of us in the industry have been spoiled by all the readily available materials and manufacturers located in Atlanta providing easy access to what is needed to insure a custom home project goes smoothly. Couple the availability of materials with weather suitable for building year-round and it is easy to see why so many people choose to build custom homes when considering a new home in Atlanta.
If having a home that is uniquely yours, reflects your personal style and yours alone, that is situated on the property to satisfy your needs and wishes, and one that is designed and built to your specifications and desires, then building a home in Atlanta is right for you. And besides, it's really a lot of fun as well!
Ready to start a conversation about your project? Contact us to get started.